Key Largo
The Dive Capital Of The World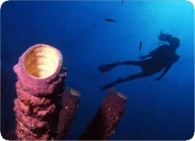 Key Largo is the first island in a chain of islands stretching for over 100 miles, known as the Florida Keys. It is blessed with the most beautiful portion of the world's third barrier reef system. Key Largo is also blessed with the John Pennekamp National Marine Sanctuary, which was established in 1960.
The Sanctuary has given protection to our reefs from over- fishing and harmful contact with our corals. The remainder of the Florida Keys, with the exception of a few special areas, has been protected for less than ten years. This protection gave the Key Largo reefs a thirty-five year advantage in reef preservation over the rest of the Florida Keys.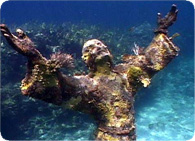 The shallower depths of our reefs, an average of 25 to 35 ft, are not intimidating to the newest diver and offer such a large diversity of fish life that even the most discriminating diver will be impressed. At Key Largo Dry Rocks snorkelers and divers visit the famous Christ of the Deep Statue. This site has come to symbolize Key Largo and the National Marine Sanctuary and is visited by many divers and snorkelers each year.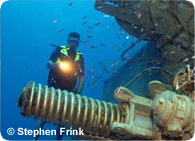 In addition to our beautiful reefs, Key Largo offers world class wreck diving; Key Largo has three intact artificial reefs, the U.S. Coast Guard Cutters the Duane and the Bibb along with the world's newest and largest artificial reef, the USS Spiegel Grove. For many years the USCG Duane was considered by many to be the best wreck dive in the United States. But now the Spiegel Grove has taken over that title, with her incredible length of 510 ft to investigate. These wrecks will impress the most experienced advanced divers. Key Largo also offers several shallow shipwrecks for novice divers and at the same time is intriguing enough to captivate the advanced diver. The Benwood, the City of Washington, and the Civil War Wreck are fantastic wrecks that will fascinate everyone.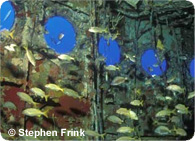 Key Largo offers year round temperate waters with a late winter low of approximately 74 degrees, and a high in mid summer of around 88 degrees. Due to the proximity of the Gulf Stream, coupled with the fact that Key Largo has no bridges for the tidal currents to churn up the water, it has the best visibility of all the Florida Keys. The average visibility is between 50 to 60 feet, with 100+ feet not being uncommon.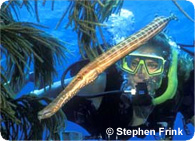 Key Largo's warm clear water offers something for everyone. Beginning divers enjoy our beautiful and easy to dive reefs and wrecks. Advanced divers are impressed with our abundance of fish life and wreck divers can enjoy dive after dive exploring the remains of both shallow and deep-water shipwrecks. There is no doubt that Key Largo is the "Dive Capital Of The World".

You may enter the Underwater Treasure Hunt by diving with any of the
following dive shops.

Capt Slates Atlantis Dive Center (305) 451-3020 (800) 321-DIVE
Dive In 305-852-1919
Horizon Divers (800) 984-DIVE
Island Ventures 305-451-4957/866-293-5006
Ocean Divers, North or South Stores (800) 451-1113 or 305-451-0037
Quiescence Diving Services 305-451-2440